Axon Capture
Capture evidence anywhere with your phone.
Why carry three separate devices for photo, video and audio when you can do it all from your phone? Axon Capture is an application built specifically for officers' smartphones – with added security and organization features. Record evidence, add tags, titles or GPS coordinates and upload data to Evidence.com.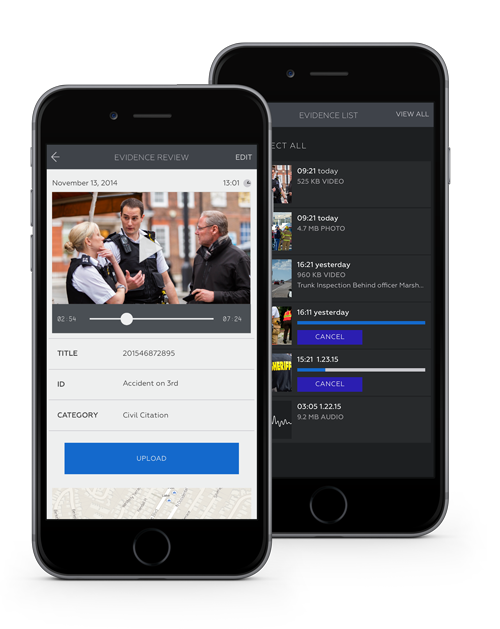 Protecting truth meets the convenience of your phone.
With Axon Capture, recording evidence is easy and managing it is secure. Photos and videos are automatically tagged with GPS locations and metadata is synced to your Evidence.com profile – all without leaving the scene.
Leverages smartphone features for digital evidence recording.
Secured with a PIN number to prevent unauthorized access
Automatically tags photos and videos with GPS data
Metadata can be added directly from the scene
Seamless integration with Evidence.com desktop platform
Fully customizable data plans, deletion policies and security protocols
Increases efficiency and saves time – see how Redmond PD saved $1,145 annually per officer
Technical Specifications
Compatibility
Android: Android Devices Version 4.1 and above | Apple iOS 8.0 and above on iPhone, iPad and iPod touch
Upload Method
3G, 4G or Wi-Fi connection
Access
Users must log in to their active Evidence.com account to use the application.
Storage
Data are only uploaded to Evidence.com's secure storage
Language
Available in English, Spanish, and French